Play Music Project
07 Dec 2021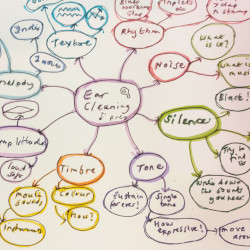 We started the Play Music Project yesterday in FUSE Art Space. 'We' being myself, Kathy Dyson and shi Blank.
It's a project to allow anyone to make, compose and improvise music in a collaborative, experimental and supportive environment - just for fun! We're running it as a pilot for the next three weeks.
These workshops are entirely free and we hope that the people involved will mould both the shape of the music and the way the workshops develop.
After Christmas we will review the pilot and take the next steps which could include plans to initiate the workshops across the district with different leaders.
Tracks of the week (Resonate)
Field Recordings by The Argent Grub is now on the stream 2 own, cooperative platform, Resonate.
It's not just me, there's plenty of other good music on there. Checkout LazyRevs and LØV for example.
Track of the Week (Bandcamp)
Alice by the Sisters of Mercy, forms part of The Alice Tape by Death Hags. Takes me back a bit, but it's an excellent cover. The rest of the album is pretty good as well. I was lucky enough to get a free Bandcamp code from a twitter post in order to grab my copy.
The Record Club
Good to see The Record Club going strong. Managed to get to the event in December, and appreciated noise levels that allowed conversation and good music to work together. I understand that there isn't an event in January, so check The Record Club website for details.