A Grand Re-Opening
08 Jun 2022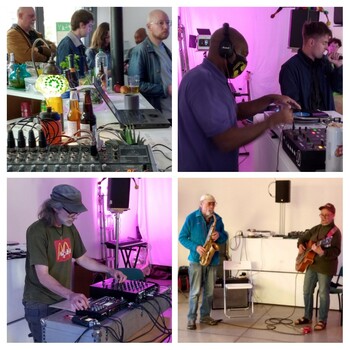 Lots of interesting stuff at the FUSE Grand Re-Opening.
Saturday last saw the Grand Re-Opening of FUSE Art Space, and along with some other very good people, we welcomed even more good people through the doors to see what the space has to offer and to get some ideas about events and activities we can help provide there in the coming months.
The Collector kept rolling out brilliant, all vinyl, tunes all day and wasn't phased when MC Lucas Dolan turned up for an impromptu performance. Kathy Dyson and John, played live, and we also had a solo electronic synth/sampled performance from a lovely bloke who's name I forget! (I'll make amends!)
Play Music Project
We've got a website with a few ideas on it about a possible Play Music Project, and we used the time to run those ideas by folk.
People were excited about the instrument library, specifically instruments they've always been curious about but never had a chance to have a go at.
There was also interest in the 8 speaker, Ambisonic, set up, and in other workshops, one-to-one, peer-led, and collaborative sessions.
We think we'll pretty much definitely be starting a weekly 'Jazz Jam' in July.
In other news
I've put a bid together, with four other local artists, to see if we can do more of the Dawn Chorus type of work, where we mix genres of art with listening, experiencing, and taking in the environment around us - so fingers crossed.
The Resonate Radio show continues to be fun. I'm making connections with lots of great Resonate artists - most recently Kallie Marie , Feral Five, and TREMOSPHERE, who have all contributed to the show in the last few months.
Resonate is on a drive to get more people to sign up to the platform right now, to help fund future development. If your ethics are important to you when it comes to music, you should join as soon as!
New music
I have managed a bit of time on new music, so I'm hoping to add a track to Listen Up, my EP of Greta Thunberg speeches set to music (I might like to listen to), soon.
I've also spent a bit of time with my pal Stu recently and we've got a fairly left-field 'People calling their dogs' project on the go - we'll see!
BUT, I've mostly been spending my time stacking over drives into a Big Muff to try to recreate Dinosaur Jr. sounds. It's not all work, work, work y'know.