BPH Session with Dean McPhee
10 May 2022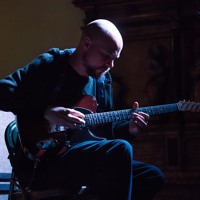 Learning about solo performance from Dean McPhee.
Yesterday evening was spent with Dean McPhee and Lukas Hornby at FUSE Art Space thanks to the support of Bradford Producing Hub and the Spare Bob grant they gave me earlier in the year.
The BPH sessions (as I'm calling them) are focused around turning some of my music into live performance, so I'm picking the brains of some great solo artists, musicians and other creatives.
Dean McPhee really knows his stuff, and helped me look at both the practical and the performance elements of turning my multitracked, effects laden, tracks into a solo live performance.
We also had the experience of listen to some of my stuff loud and live - something I haven't really been able to do before.
I came away feeling more confident that it was something I could do, and that it could be of interest to others. I also have a load of practical things to get on with in terms of connecting instruments, computers, controllers etc up to existing tracks and seeing what can be achieved.
A thread throughout all of this is also about looking at ways this can be achieved with a low environmental/climate impact, so it was good to discuss ways of reducing the amount of gear and thinking about what venues may or may not be able to provide.
I also went away with an 8 channel sound card to have a play with - partly with an idea to use the Ambisonic system that is available at FUSE.
Plenty to think about,and plenty to do.