BPH Sessions - Round Up
16 May 2023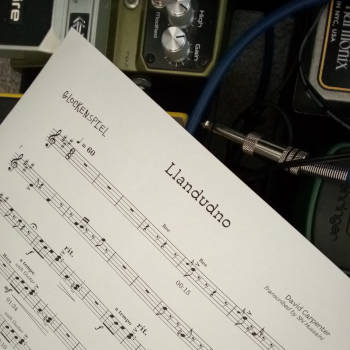 Going Live
Back in March 2022 I received some 'spare bob' from the Bradford Producing Hub to look at creating a live version of the music I record and produce mainly on my own. The money is paying artists directly to share their time and expertise, and for a venue for us to meet in.
I started off thinking this was a project to 'do what I do' on my own in front of a live audience, but the process has made me realise that it's more fun to play with other people.
I'd already made the move to putting some resources on line (raw recordings, mixes that can be downloaded and loaded into DAWs), and so a couple of months ago I met with Shi Blank, Bradford musician, game designer, zine maker and podcaster, and Alice Gilmour, musician and sound designer, to look at how we might create scores for some tracks.
Shi brought her bass and effects, I had a guitar with effects, and Alice brought her violin and loop pedal. We also ended up being joined by The Collector on special effects!
We used that session to break down the track Ardrossan and create a paper visual score of the parts and the progression of the song.
We've since met to work on Chitteranjan, and yesterday, Llandudno.
The photo shows the score that Shi worked up from the track for the part she's playing, and both Alice and I used it to cue us in for our parts.
It feels a bit like we've created a band, but we're also looking at ways that that band could be fluid, and ways that other people could pick it up and use it should they want to.
We're at the end of the funding for this piece of work now, but we'll be playing together again. I anticipate that our first public practice will be as part of the Bradford Sound Artists group, where I think we can both show our work in progress and include other sound artists/musicians in that practice.
So, a big thank you to the Bradford Producing Hub for providing not only the cash, but the incentive to take action, and to allow me to try something out; and to Eli, Shi, Alice, and Dean for their time, expertise, and support.
Other posts on this topic: